Company news
CTSP upgrades its fleet of production equipment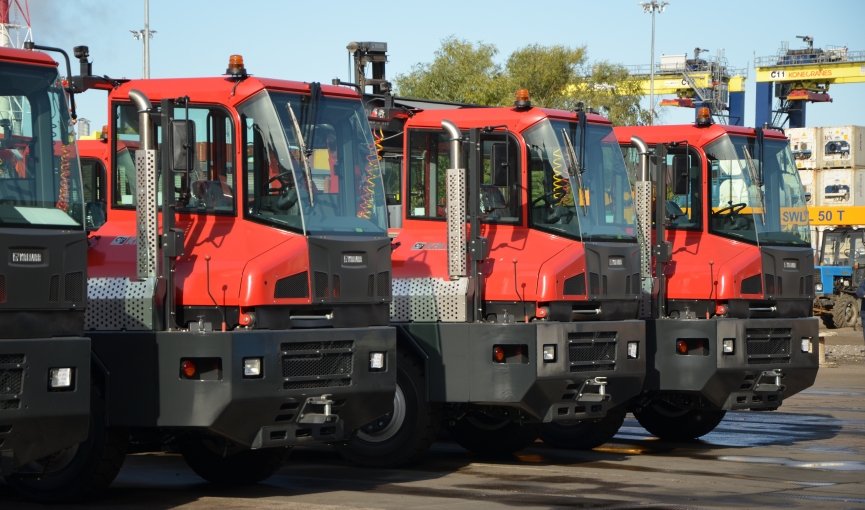 Under the programme on production equipment modernization aimed at building up the terminal's throughput capacity, Container Terminal Saint-Petersburg CJSC (CTSP) put into operation new handling equipment in the end of 2019
The fleet of production equipment was expanded with 19 Kalmar terminal tractors with semitrailers of 65 tonnes in lifting capacity. They are involved in loading/unloading operations for transportation of containers between ships and warehouses as well as for transportation of imported containers to the customs examination area.
The new equipment features high maneuverability and ergonomics ensuring high level of container handling. All tractors are equipped with diesel engines with a system reducing СО2 emissions conforming with EU Stage 4F.
For loading/unloading works, the company put into operation two new reachstackers of Kalmar DRG450-65S5 design. With their telescopic booms and lifting capacity of 45 tonnes, the new equipment can make five-tier stacks of containers. This design ensures easy operation and high performance.
Besides, the terminal obtained two Kalmar trucks of DCG90-45ES7 for handling of empty containers. They are able to make six-tier stacks of 2.85-meter high containers and seven-tier stacks of 2.55-meter high containers.
To increase the scope of examinations, the terminal acquired Seaсom roll trailers for handling containers of up to 50 tonnes and two goosenecks.
The cabins of all newly acquired equipment have been fitted with radio terminals for connection with the Solvo system and radio stations for operator/supervisor interaction.